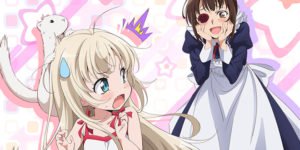 The Japanese company Kadokawa recently announced that the "UzaMaid!" series will receive an OVA included in the fourth volume of the Japanese disc release. The publication is scheduled for April 24, 2019. A first promo video can be found further down in the article.
The twelve-part series "UzaMaid!" was directed by Masahiko Ohta ("Himouto! Umaru-chan") at Studio Doga Kobo. Takashi Aoshima ("Gabriel DropOut") wrote the script, while Jun Yamazaki ("Three Leaves, Three Colors") contributed the character design
"UzaMaid! was shown on Japanese television in the 2018 autumn season and has not yet been licensed in Germany.
Promo video:
Action
The story revolves around Misha, a little girl who lost her mother at an early age and now lives with her father. Her father employed a maid named Tsubame, who was then an officer of the Self-Defense Forces. Besides, she's a lolicon.