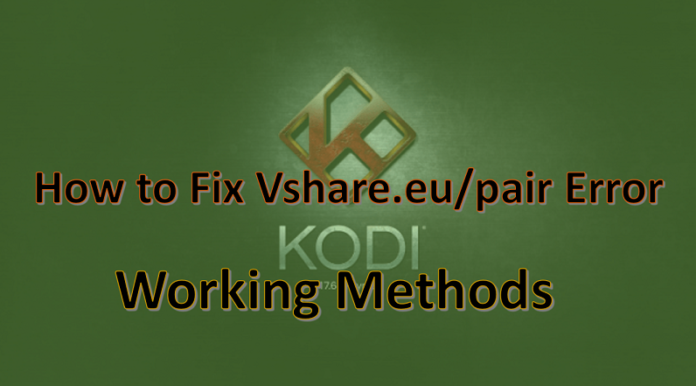 Looking for the solution of http://vshare.eu/pair? If yes then you landed on right page. In this post, we are going to fix vshare.eu/pair error of kodi. As we know kodi is an open source software and it is the most popular software in giving the best videos by using the various and different types of popular add-ons.
But still sometimes Kodi is delivering different servers list issue and most of the people, don't have an idea about how to solve this issue. So basically today in this article we are gonna talk about vshare.eu/ pair error. We have seen different pairing systems in previous such as olpair, tvad.me/pair, flashx/pair and many more. In this article, we will gonna talk about vshare.eu/pair. Recently, Kodi developers have introduced this vshare eu pair service. This is also the same as the other servers, but it had some more features than the other servers. so let's proceed with the introduction of vshare.eu pair.
Do you know guys, what is vshare.eu pair? ok, let's start from the beginning. Vshare eu pair is the famous server. If you use this server on your kodi for your different add-ons you will not get any kind of interruptions except in some major required incidents. If you want to watch your favorite videos on your kodi with the no interruptions then you must use this vshare on your kodi. But nowadays people facing some strange issues with vshare.eu/pair. Many users have a problem with vshare eu pair and they are facing error like http://vshare.eu/pair Kodi Error. So we are here to solve this error. Follow below steps to solve vshare.eu/pair error. In this section, we are going to share different methods to solve vshare eu pair error. I am sure, after the reading this article, you will be able to solve this error easily.
To solve vshare pair error, here we are going to use the stream authorization method, in this method we need to get our device IP address and we have to pair our device IP address with the vshare eu pair IP address. There 3 methods available to solve this error.
Stream Authorization
Hosters With Captchas
Using URL Resolver
Firstly Open your "Kodi Software" on your device.
Now Watch any one of your favorite movies or any random videos Using the "Video Addon"
Now you would get a different server list, like olpair, tvad.me pair and vshare eu pair.
Now select "Vshare eu/pair".
here you would get a Pop Up like "To Play This Video Stream Authorization Required"
For that, you need to visit vshare eu pair official website "http://vshare.eu/pair
Here you will get an "IP Address" for your device
Now click on "Pair".
Now attach your device IP address to the vshare eu pair IP address.
Finally, Tap on Active Streaming
here you will be notified with the message  "Your device Paired Successfully"
You can also fix vshare.eu/pair error using URL resolver. Follow below steps to solve vshare eu pair error.
Open your  "Kodi Software"
Choose the "Settings" icon
Now navigate to  "System Settings" and here you have to change that to "Expert Mode"
After that choose  "Addon" then select  "Manage Dependencies"
Now select "URL Resolver"
Tap  on "Configure"
Choose any one of the following "Resolvers"
Now select  "Vshare EU pair" and then "Disable" it.
You have done!
From now onwards you can enjoy your favorite videos for up to four hours. So this is how you can solve vshare.eu/pair kodi error. Try above two methods and I am sure at least any one of them will work for you sure.
Yes, it is completely safe to pair your device with kodi. I know many people are worried about to use vshare pairing but vshare is introduced by kodi developers so it is completely safe to use. If you are still confused to use vshare or not then in additional Safety, you can use VPN.