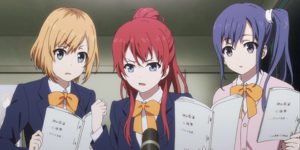 As part of AnimeJapan 2019, it was announced today that the upcoming movie to "Shirobako" will play about five years after the anime series. The running time should be about 120 minutes and a new character named Miyai should appear in the movie for the first time.
The studio P.A. Works is again responsible for the production. The production team of the series is also on board again. Further details are not yet known. When the film starts is also still unclear. The dubbing will take place from July to August 2019.
In Germany, KSM Anime secured the license for the 24-part series from 2014 and released it in six volumes on DVD and Blu-ray.
Visual:
Action of the series:
The 24-part series by P.A. Works (including Angel Beats!, Charlotte, Nagi-Asu) tells the story of Aoi Miyamori and her friends, who have just started their careers from university. Everyone wants to do something with anime and so the girls end up as young animation artists, as production assistants or CGI animators in studios or as dubbing newcomers in agencies. They learn all kinds of things about the process of creating anime and experience up close that the process of creating an animated series is a bone job.